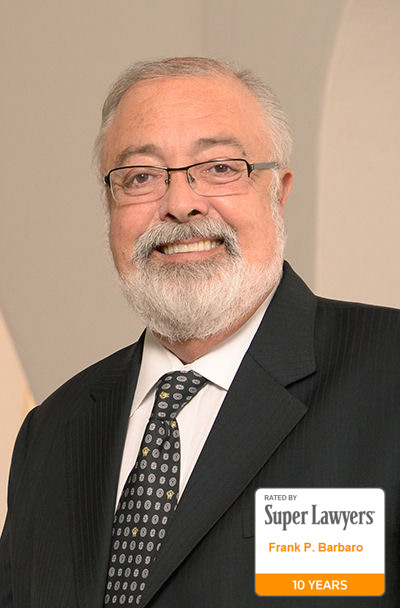 FRANK P. BARBARO, a premier Southern California trial attorney, has successfully tried in court over 100 cases and settled thousands of others amounting to hundreds of millions of dollar for his clients.
Mr. Barbaro is highly respected by his clients, the judiciary and defense bar for his superb trial advocacy skills. His willingness to advocate for his client does not end at the trial court level. Mr. Barbaro has successfully argued many cases in front of both the appellate and supreme courts.
In Soule vs. General Motors Corporation, Mr. Barbaro won a $1.65 million jury verdict for his client Terri Soule in a complex automobile defect case against General Motors Corporation.
General Motors Corporation was unwilling to concede defeat after the 12-0 jury verdict. Armed with unlimited resources, General Motors Corporation appealed the case all the way to the California Supreme Court.
After Mr. Barbaro argued for Ms. Soule before the Supreme Court Justices, the Court found in favor of Ms. Soule. This ruling created a landmark decision concerning the application of the consumer-expectation test in the area of products liability. To this day, this case is taught in every law school in the country.
Mr. Barbaro's success comes from getting to personally know his clients combined with a tenacious passion and drive to advocate for them.
Mr. Barbaro has vast expertise representing clients in medical malpractice, automobile, trucking, plane and train accidents, negligent road design, premises liability, elder abuse, defective products and wrongful death claims.
Honors and Awards

Preeminent AV Rated attorney by Martindale Hubbell which is the highest possible rating in both legal ability and ethical standards reflecting the confidential opinions of members of the bar and judiciary for 26 years straight.
Recognized by Orange Coast Magazine as "top 10 attorney in Orange County," 2011.
Received distinction SUPER LAWYER 2004-2015 by Orange Coast Magazine.
Recognized by Los Angeles Magazine as one of the "Top Lawyers in Southern California," 2013.
Awarded "Man of the Year" by the Italian American Renaissance Association, 2002.
Chairman of the Committee to Preserve a Responsible Judiciary, since 1978.
Education
Mr. Barbaro received a Bachelor of Science in Political Science with a minor in forensics, from the University of Southern California in 1965 with honors. Mr. Barbaro also received his Juris Doctorate from the University of Southern California, Gould School of Law in 1968.